Do you want to gift a remote controlled vehicle for your kid on their birthday or for Christmas? You need to pick the best type of RC cars that give an impressive performance and lets your kid enjoy playing with it for hours together.
There are different types of remote controlled cars available on the market. To operate these cars smoothly and safely, it requires skill for the operator. Out of the three types of RC gas, each of them has their own pros and cons.
Types of RC Cars
Pros
Electric RC:
Very quiet compared to others.
Very easy to operated and maintain.
Can be used indoors or outdoors.
Brushless motors are currently the fastest RC vehicles.
Nitro RC:
Feels most like driving a real car which many fans enjoy.
Can fine tune the vehicle exactly how you want it.
Normally faster than most brushed electric vehicles.
Can run as long as you'd like by just adding fuel.
Gas RC:
Gas is generally cheaper than nitro fuel.
Easier to maintain than nitro RC vehicles.
Can run longer than electric RC vehicles.
Usually comes in larger scales such as 1/5th.
Cons
Electric RC:
Brushless motors vehicles are very expensive.
Brushed motors are generally slower.
May have to purchase extra batteries which is costly.
Generally cannot run as long and need time to recharge batteries.
Nitro RC:
Very noisy compared to others so neighbors may not like.
Having to purchase fuel can be expensive.
Smoke and fumes are not good for indoor use.
Can be difficult to manage for someone not good at tuning.
Most cannot go in reverse.
Gas RC:
Generally slower than nitro and brushless electric RC vehicles.
Generally pretty expensive compared to other vehicles.
Can be noisy.
Electric Powered RC cars
Many people like to choose electric powered vehicles over the other types of RC cars. These cars are equipped with brushed and brushless motors. Ideally, brushed cars are cost-effective, easy to maintain and operate. This is the best type of car that has to be chosen by the beginners. These are very budget friendly and the starting range of these cars is from $20. These cars are highly durable and are built for extendable life.
Tamiya FF03 Pro and Castrol Honda Civic RC Cars
This is the latest racing car that is pulling the eyes of the kids to buy this one in the electric model. This looks stylish whose chassis kit is built using Tamiya Racing Factory Driver. This has a good battery backup. This has the ability to travel 60 miles per hour. This is a perfect piece for beginners and is the cost-effective way to start using it as a hobby.
Pros
Easy to built
Highly durable
Requires low maintenance
Can be used off-roads without any hassle
Cons
It is not equipped with radio control system
Tamiya TA05 v2 IFS Mach GoGoGo
No products found.
If your kid is compelling you to buy a radio control car, then this model is perfect to buy. This is the best way for kids to enjoy playing with it while letting them dismantle and learn how to assemble it. Undeniably, it is easy to unscrew and screw the parts for kids.
Pros
Chassis is highly durable
Easy to win the race with this racing kit
Easy to balance and give a neutral driving feel
Cons
Heavy
Not budget friendly
Need to change the tires very often
Nitro Powered RC cars
These use nitromethane as the fuel to run the cars efficiently and smoothly on the bumpy roads. The double needle carb used to adjust high end and low-end power. The engine of the car is equipped with low plug igniter to heat and start the engine. If you would like to drive at high speeds, you would need to choose these cars.
The behavior of carburetor will change with the change in the climatic conditions. The drawback of these cars is that you can drive only in the forward direction and if you get stuck or lost the way, you cannot back out. There are a few high-end models of these cars which are equipped with reverse feature. However, you need to check the features while shopping for these cars
Nitro TC3 RC Car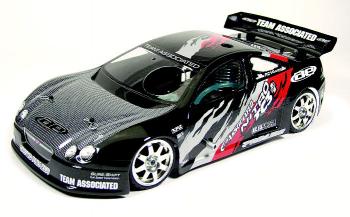 This is the fastest Nitro RC cars that are purchased by many people. This vehicle is capable of traveling up to 40 miles per hour. This is equipped with shock absorbers and easy to fill fuel tank. The high grip racing tires will let you go for a race off and on-roads. The 22 ball bearings will improve the speed of the car and assures high durability. The single speed transmission will drive at the speed of 25 to 40 mph.
Pros
Has good run time
Solid brakes
Easy to steer
OFNA LD3 RTR Review
This is another jet speed nitro RC car that's gaining huge popularity in the RC world. It has 0.12 nitro engine and has a polished ring to improve power. The two speed transmission will let you accelerate the speed of the car and drive at a brisk pace. This is considered to be the perfect racing car for beginners and professionals.
Pros
Can be used on and off roads
Highly durable and equipped with solid brakes
Available at a reasonable price
Cons
Can be used only in the forward direction
Loud
Hard to find fuel, if there are no hobby shops in your locality
Gasoline Powered RC Cars
These are the latest development in the RC world. These vehicles are expensive to buy but easy and cheaper to run. More importantly, you can easily refill the gas in the local gas station. The design of this car chassis is similar to that of nitro RC cars. You do not need any starter box or igniter to start the engine of the vehicle. All the user should do is to pull the cord and start the engine.
Off-road Buggy Backwach Nitro Gas Powered 4WD RTR T3L6 USA
This car can be used to drive off-road and even on rough surfaces. It has strong four wheels to drive smoothly. This car is easy to maintain and is equipped with solid chassis. The disc brake system will let you apply the brakes immediately when you are going to hit any obstacle. The shock absorbers will protect the car from shocks. The front bumper provides additional protection to the car from accidents. The durable tires will reduce the odds of replacing the tires.
Pros
Easy to maintain
Highly durable
Looks stylish
Assure high performance
Cons
Little expensive
You need to take proper care as it is fragile in nature
Rampage XR Rally 1/5 Scale Gas Powered Redcat Racing RC Car
This lets you have an incredible racing experience over the other car models. You can take this car onto terrains without worrying about the tires getting flat sooner. The gasoline engine will improve the horsepower of the vehicle. The aluminum chassis is highly durable and is equipped with disc brakes.
Pros
Assure extreme performance
Equipped with metal gears
Come with a radio system
Has high fuel tank capacity
Cons
Last update on 2020-12-02 / Affiliate links / Images from Amazon Product Advertising API